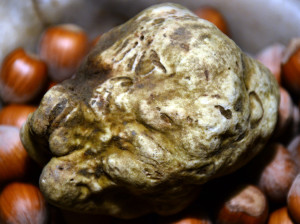 The white truffle that grows (from last week of September to the first week of December) in the hills nearby Cascina Burroni is thought to be one of the most perfumed and tasty in the world – its virtues so great that Gioacchino Rossini defined it 'the Mozart amongst all the truffles'.
The Cascina Burroni is situated within wooded private and fenced area where guests, together with the hosts and their faithful 'truffle-hunting' dogs, are allowed to 'hunt for truffles'. During the 'truffle-hunting' excursions, which take place either late in the evening or at night-time, the guests will be able to watch the unique relationship between the dogs and their owners, as they search for the precious truffle. With a bit of luck, after walking for a couple of hours, the 'hunt' might be turning into a successful one and white truffles will be found and available for purchase.
The truffles of the Cascina Burroni are awarded the official quality and location stamps.